What Factors Are Driving the Growth of the Aluminum Sheet Market?
Aluminum sheet is a popular material used in a wide range of industries, from aerospace to construction. The aluminum sheet market has seen steady growth in recent years, with a forecasted CAGR of 4.1% between 2021 and 2026. Here we'll explore the factors driving this growth and what it means for the future of the industry.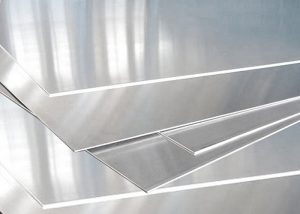 Rising Demand in the Automotive Industry
One of the primary drivers of the aluminum sheet market's growth is the increasing demand for lightweight materials in the automotive industry. With the push towards more fuel-efficient vehicles and stricter emissions regulations, automakers are turning to aluminum sheet as a viable alternative to traditional steel. Aluminum sheet is lighter, more malleable, and has a better strength-to-weight ratio than steel, making it an attractive option for automotive manufacturers.
Growing Construction Industry
Another key factor driving the growth of the aluminum sheet market is the growing construction industry. Aluminum sheet is used in a variety of construction applications, from roofing and siding to windows and doors. The material is highly durable, corrosion-resistant, and requires minimal maintenance, making it a cost-effective choice for builders and contractors.
Advancements in Technology
Advancements in technology have also played a significant role in the growth of the aluminum sheet market. With the development of new manufacturing processes, such as hot rolling and cold rolling, it has become easier and more cost-effective to produce aluminum sheet in large quantities. Additionally, improvements in surface treatments and coatings have made aluminum sheet even more resistant to corrosion, enhancing its durability and lifespan.
Increased Demand in the Packaging Industry
The packaging industry is another area where the demand for aluminum sheet is on the rise. Aluminum sheet is commonly used in the production of beverage cans, food containers, and other packaging materials. The material's excellent barrier properties and resistance to corrosion and contamination make it an ideal choice for these applications.
Emerging Markets
Finally, the growth of emerging markets is driving demand for aluminum sheet. As economies in countries like India, China, and Brazil continue to develop, there is an increasing need for infrastructure and consumer goods. This has resulted in a higher demand for aluminum sheet in industries like construction, automotive, and packaging.
Conclusion
In conclusion, the aluminum sheet market is seeing steady growth due to a variety of factors, including the increasing demand for lightweight materials in the automotive industry, the growing construction industry, advancements in technology, increased demand in the packaging industry, and emerging markets. As these trends continue to shape the industry, we can expect to see continued growth and innovation in the use and production of aluminum sheet.