What are the advantages of using aluminum sheets over other materials
Aluminum sheets have become increasingly popular in various industries due to their exceptional properties and benefits. As compared to other materials, aluminum sheets provide numerous advantages that make them ideal for different applications.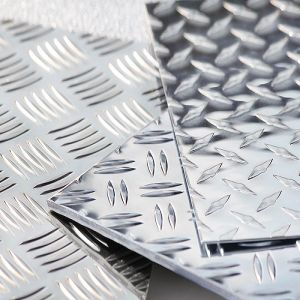 Lightweight
One of the significant advantages of using aluminum sheets is their lightweight nature. Aluminum has a low density of 2.7 g/cm3, making it much lighter than other metals such as steel, copper, and brass. This property makes it easy to transport and handle aluminum sheets. Additionally, its lightness makes it ideal for use in applications where weight is a critical factor, such as in the aerospace and automotive industries.
High Strength-to-Weight Ratio
Despite its lightweight, aluminum sheets offer exceptional strength-to-weight ratio. Aluminum has a higher strength-to-weight ratio than steel, making it a preferred material in various applications. This property allows aluminum sheets to withstand extreme forces and stresses without bending or breaking, making them ideal for use in structural applications.
Corrosion Resistance
Aluminum sheets are highly resistant to corrosion. Unlike other metals, aluminum forms a thin oxide layer on its surface when exposed to oxygen, which acts as a barrier to prevent further corrosion. This makes aluminum sheets ideal for use in outdoor and marine applications where they are exposed to harsh weather and salty environments.
Formability
Aluminum sheets are highly formable, making them ideal for a wide range of applications. Aluminum sheets can be easily shaped, cut, welded, and formed into various shapes and sizes. This property makes them ideal for use in the construction industry for roofing, cladding, and facades.
Recyclable
Aluminum is a highly recyclable material. Recycling aluminum sheets require less energy compared to producing new aluminum, making it an environmentally friendly option. Additionally, recycling aluminum sheets reduces the need for mining and extraction of new aluminum, which reduces the carbon footprint and preserves the environment.
Electrical Conductivity
Aluminum sheets have excellent electrical conductivity properties. They conduct electricity better than copper, which makes them ideal for use in electrical applications. Aluminum sheets are commonly used in the electrical industry to manufacture power transmission lines, electrical connectors, and capacitors.
Cost-Effective
Aluminum sheets are cost-effective compared to other materials. Although the initial cost of aluminum sheets may be higher, their durability, low maintenance, and recyclability make them a cost-effective option in the long run. Additionally, the lightweight nature of aluminum sheets reduces transportation costs, making them a preferred option in various industries.